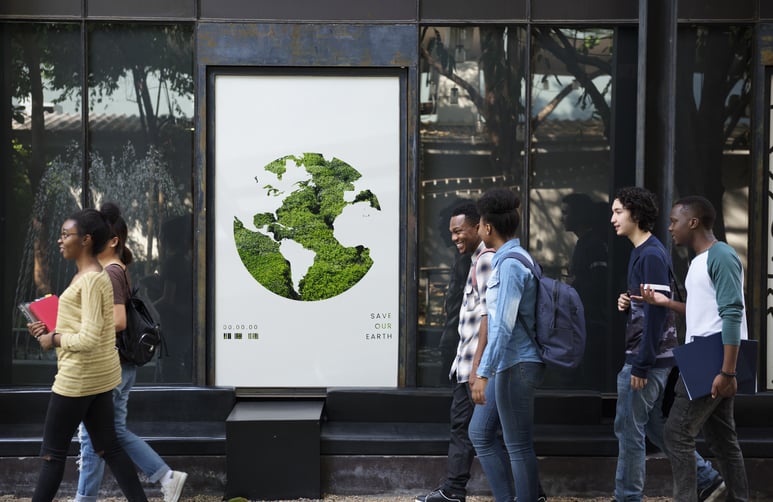 From increased visibility to targeted messaging, digital signage can have a positive impact on your organization—no matter your industry. Outdoor digital displays can help engage potential customers, improve your brand name recognition and increase revenue through impulse purchases. Showing information about flash sales and other deals can be a great way to bring people in the doors.
When you're choosing an outdoor digital display, though, the amount of options can be overwhelming. There are many different details and features that you should evaluate before making a final purchase. So, we've put together a list of some of the most important features you should look for when investing in outdoor digital signage.
1. Types of Glass
Take a moment to consider where your outdoor digital display will be placed. Will there be a lot of direct sunlight? Or will nearby buildings or trees provide constant shade?
These are important questions because if your display will be in direct sunlight at any point during the day, you'll want to invest in anti-glare glass. If you've ever tried to look at or interact with a screen outside on a sunny day, you'll understand why this feature is important. Direct sunlight can obstruct the screen, making it hard to view what is on the display. Anti-glare glass can improve the user experience, and makes sure passersby can see your messaging.
2. Durability
Your outdoor displays are going to encounter all of the types of weather your area gets. Whether that's scorching heat or hail storms, your display must withstand it all. At a minimum, it should be waterproof and dustproof, because dust and water are universal to all climates.
3. Thermal Management
While we're on the topic of climate, let's talk about temperature. This past summer, parts of the world had massive heat waves, which could have created major problems for digital signage in those areas. Protecting your digital signage begins with thermal management, and now that the seasons are changing in many parts of the world, organizations should look for displays that can handle these changes.
Make sure your digital displays have internal fans to cool the electronics in the summer and an internal heating unit for the colder months. If you're in an area with climate extremes, custom thermal management is also an option. This feature will help make sure your investment is performing optimally.
In addition to the well-being of the hardware, you need to consider the user experience. Many of today's digital kiosks are interactive. Users will need to physically touch the screen to play games, navigate maps, and participate in promotions. Direct sunlight, however, can heat the glass to dangerous temperatures. A well-engineered glass cooling solution is a must for avoiding this risk.
4. Visual Performance Score
The Visual Performance Score helps you understand how a particular display will perform outside. The score contains data on luminance, contrast and color saturation to ensure that the image on the screen actually looks good—even on a sunny day.
The score also takes into consideration the fact that outdoor displays are often viewed at an angle, not head-on. Because the screens are outside, they have to contend with changing light throughout the day and an environment that is constantly changing.
5. Backend Technology
How easy will it be to update the information on your signs? While this feature isn't directly related to the customer's viewing experience, this is equally important (if not more) to those factors. You're not always going to want to display the same content. Whether you want to add a new special, change the daily deal or just update the copy, someone is going to be updating the information on your display. Evaluate the software and updating process before you purchase to ensure it won't add too much pressure to your IT department.
Once you've looked at these five features, you should be in a much better place to choose an effective outdoor digital display. After you've made the investment and are looking for help with the technology deployment, Kinettix can help. We have teams across the world ready to help you successfully install and test your digital signage. Contact us for a consultation.