COMPANY OVERVIEW
With the combined knowledge and talents of our global partners and vendors, Kinettix can meet your needs, no matter where in the world you need IT field service management.
Kinettix is the go-to global leader in providing IT field technicians and break/fix dispatches to U.S.-based enterprises and managed service providers, anywhere, anytime. We take the complexity out of identifying local partners in international markets.
With our wide and reliable global talent pool, expert project coordination and innovative ticket management model, we bridge the gap between traditional staffing and a reliable contingent workforce.
IT Integrators
Fortune 5000 Enterprise
Mid-Market Enterprise
Multi-Site Retail
Banking & Financial
Healthcare
Kinettix services our client's needs using a wide array of technical competencies. We call on a vast network of subject matter experts ready to assist a client at the precise moment when help is needed. We offer a robust set of service offerings, including:
Global Dispatch & Break/Fix
Global Staffing
Digital Signage Deployments
Retail Technology Deployment
Camera Technology Deployment
Global Data Center Support
We service our client's needs in over 90 countries worldwide through our operation service centers in Cincinnati, Ohio and Cebu and Manila, Philippines. We leverage a diverse group of partners, vendors, and local field technicians globally to meet our clients' deployment needs.
At Kinettix, our primary goal is to alleviate the pain points often experienced with global IT deployments and field services teams. We minimize impacts to businesses during installations, keep work in scope, ensure field technicians arrive when scheduled, avoid multiple revisits, and maintain accurate invoices and billing.
Utilizing our experience and global resources, we take the complexities out of multi-site and enterprise-level global deployments by creating a transparent plan of action and creating repeatable, reliable success.
Because we are not restricted by country or OEM relationships and are entirely hardware and vendor agnostic, we can focus on developing the best deployment solution for our clients.
AWARDS
Kinettix Named To Inc. 5000 For 614% Growth Over Three Years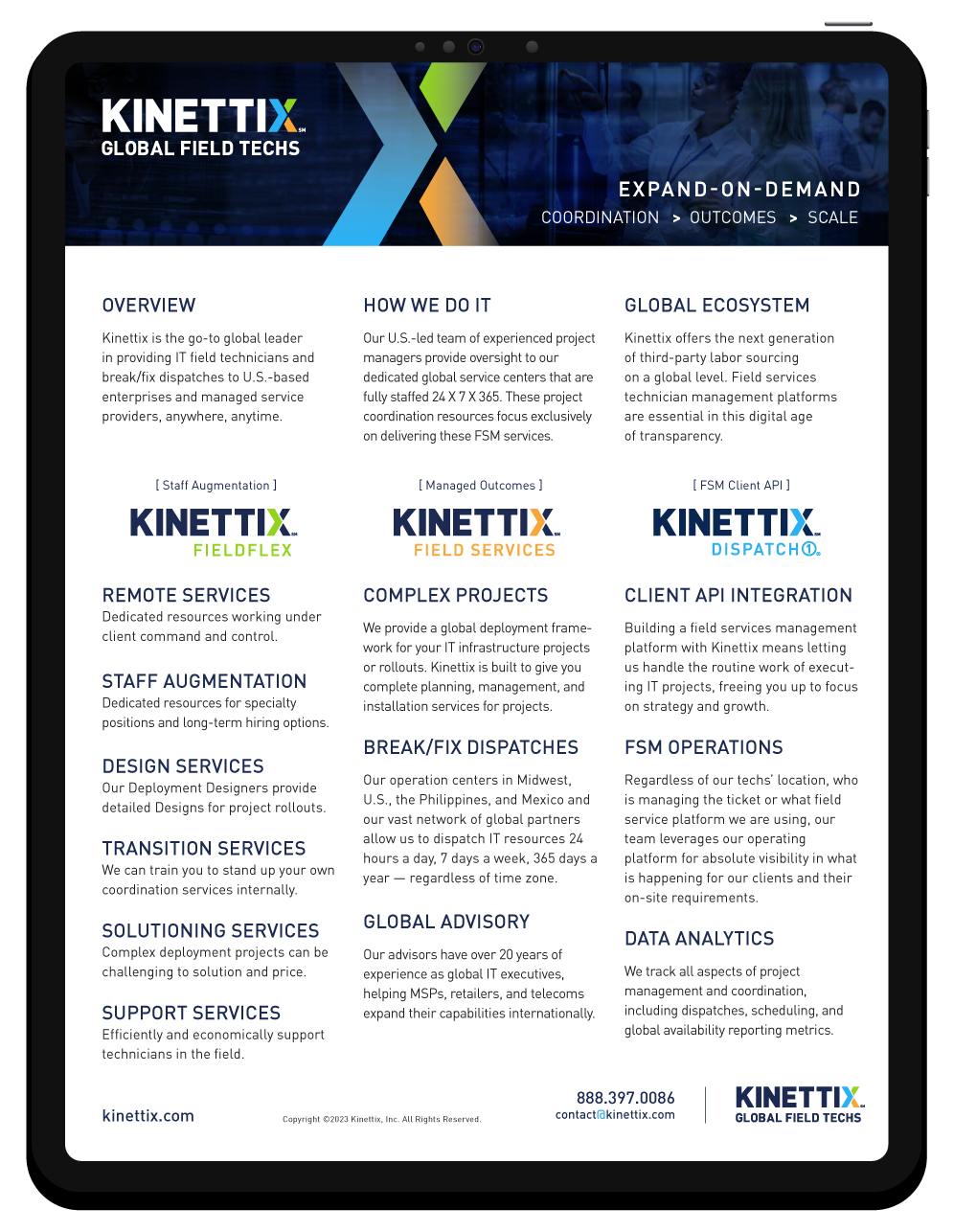 KINETTIX CORPORATE PROFILE
Learn how we help clients create local reach on a global scale.