KINETTIX FIELDFLEX℠
Flexible Coordination-On-Demand — "Everything but the Tech"
SCALE ON-DEMAND WITH FLEXIBLE COORDINATION SERVICES
Achieving a successful outcome on your IT field service projects is complex. Getting the correct scope, finding the right technician, and managing that technician is more than many companies want to handle, so they turn to third-party providers.
However, third-party providers add layers of cost between the technician and you, the customer. You can use a platform provider to source the technicians to eliminate this problem which eliminates the dreaded margin stacking on the most expensive component of the transaction — the technician.
The only problem is most clients do not realize the amount of coordination that goes into ensuring IT field service events are delivered on time, the first time, with quality. For the brave ones that walk this path without this knowledge and expertise, it does not take long for things to get out of control.
Kinettix FieldFlex services solve this problem by providing flexible on-demand coordination services that allow you to go direct to the technician without the headache of managing every aspect of the field services event.
This service truly provides coordination-on-demand. Whether you need coordination services for a day or a project manager to oversee an entire year-long project, we have customizable field service coordination and management solutions to meet your needs.
THE KINETTIX FIELDFLEX PORTFOLIO OF SERVICES HELPS IT BUSINESSES DEPLOY MORE EFFICIENTLY
Kinettix's FieldFlex offering gives you customizable enablement tools to support and complement IT field services events to fit the specific parameters of your project. Our coordination services include: SEE THE CULTURE OF OUR FIELDFLEXSM TEAMS
KINETTIX APAC HEADQUARTERS IN CEBU CITY, PHILIPPINES
3 Main Benefits of Kinettix FieldFlex Coordination Services
We support organizations reduce their overall deployment costs by providing resources and enablement tools needed to manage IT field technicians. You pay the technicians directly, thereby reducing the total cost of the labor component, and we provide all the coordination and support required for a successful deployment.
1. Eliminate Margin Stacking
Large IT Service providers can complete your IT field service project but add multiple layers between you and the technician who does the work. This margin stacking multiplies what you pay for the most expensive part of the field service event: the technician. What if you could reduce your technician costs by 25% or more and still use a Global IT Service Provider?
Kinettix FieldFlex provides on-demand coordination services, allowing you to eliminate margin stacking and go direct to the technician. The key to using this service is that you, the customer, pay and indemnify the technician directly. We simply provide coordination services via your tools and processes.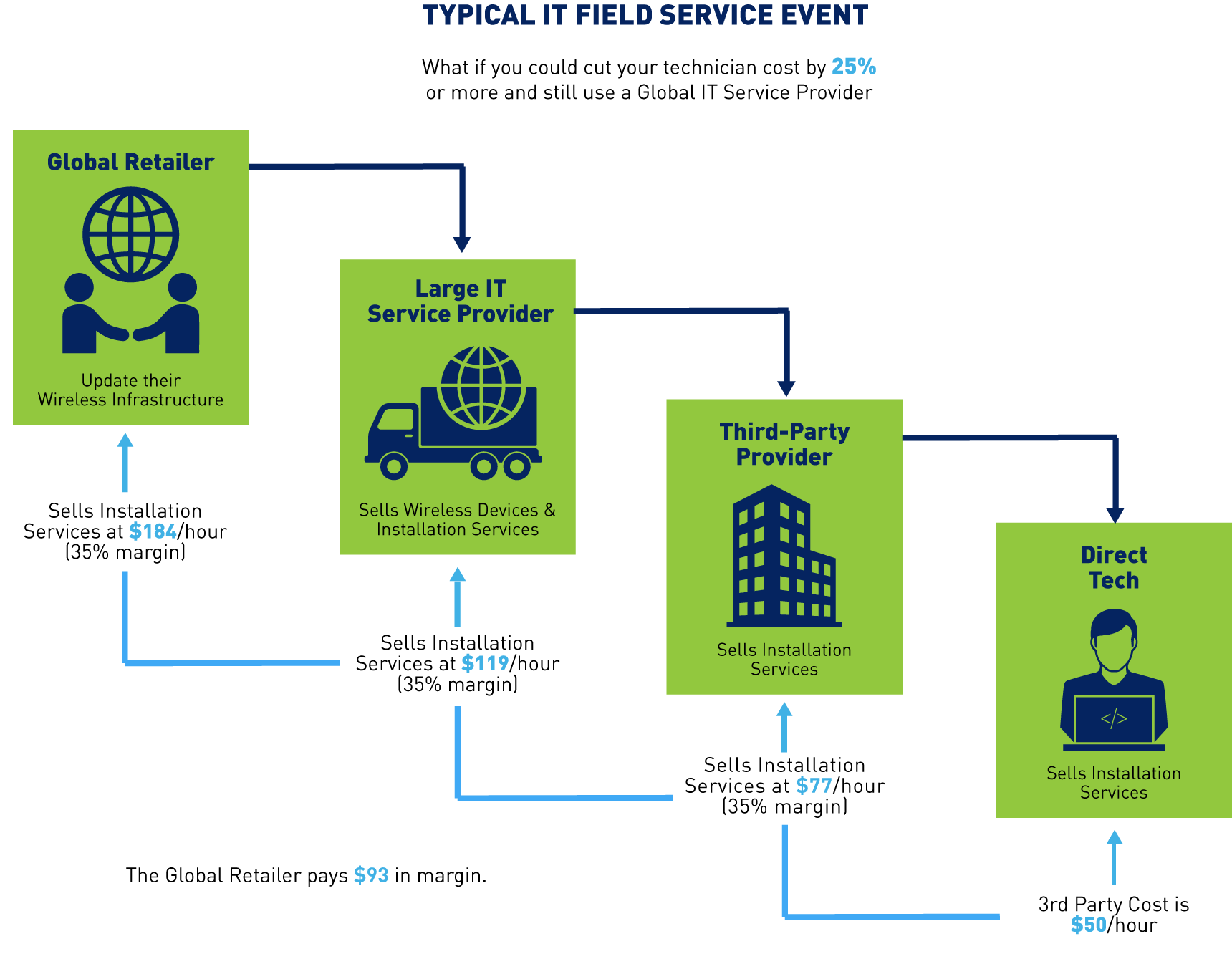 FieldFlexSM gives you all the benefits of using a Global IT service provider with the cost savings, flexibility, and transparency of going direct to the technician. Unlike the traditional field services outcome-based services, FieldFlexSM gives you resource-based on-demand coordination services that scale up and down with your changing business requirements.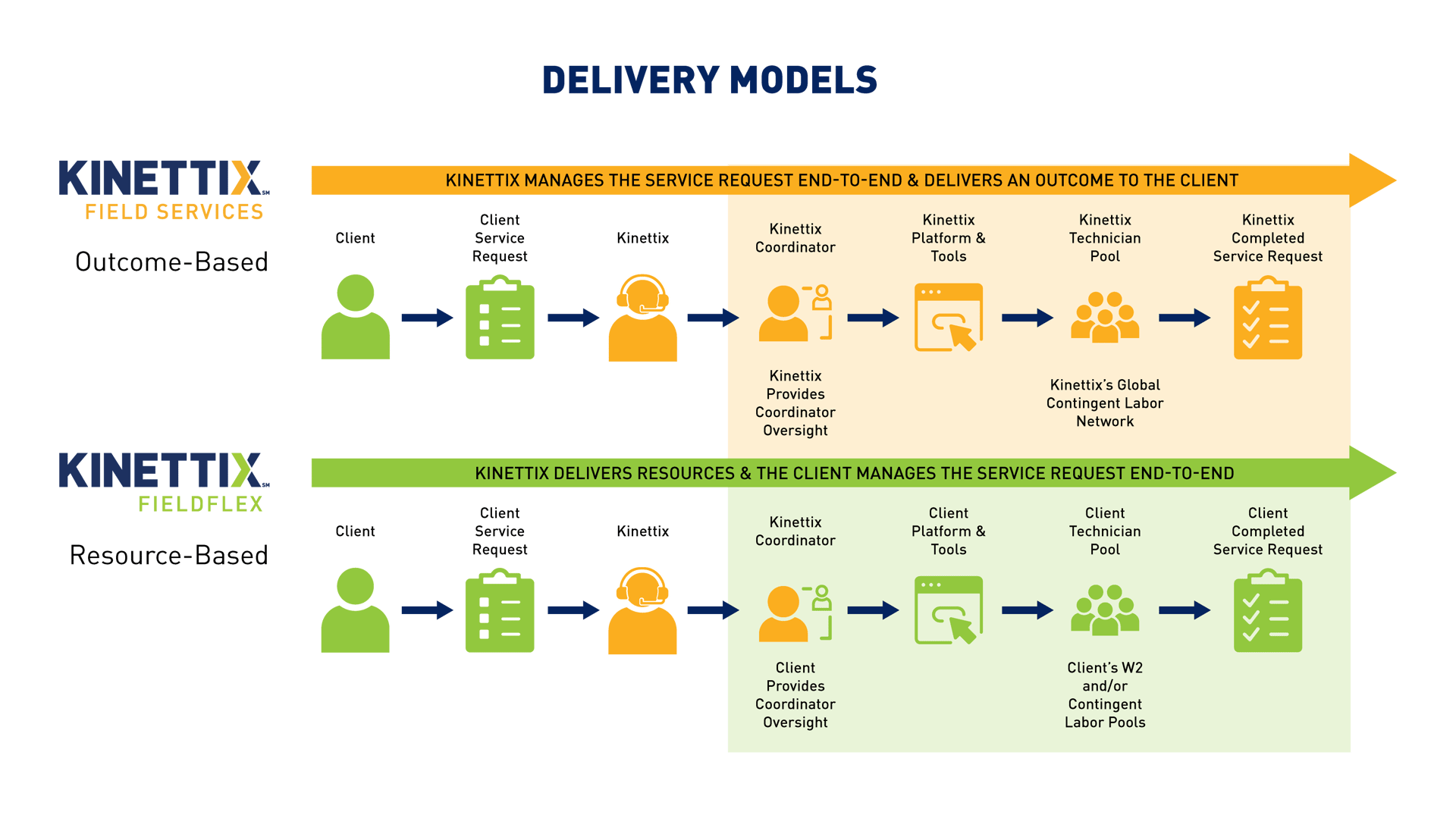 2. Clarity & Transparency
The added benefit of being in direct contact with the technicians is you always know everything you need to know about the technician working onsite and are able to communicate directly with them. This can reduce slow response times and communication breakdowns often occurring when multiple providers are layered into the event.
3. Rapid Scaling
You can engage as many Kinettix resources as needed and when needed. We assist you in building your base team of coordinators that understand your account in detail and provide ongoing full-time support.
Once the base team is developed, you engage additional resources from a pool of on-demand dedicated resources. This allows you to scale the coordination services staff as needed with your business and project demands.
Kinettix FieldFlexSM Is a Must in Modern Service Delivery Environments
We deliver coordination services using your processes and management tools, so you control how the events are managed and which of your internal tools will be used to track the status of all your IT field services events.
This also decreases the amount of training and swivel-seating between different platforms that happens when using third-party service providers.
FieldFlexSM gives you a dedicated team of 100% vetted Kinettix staff with full background checks that have been approved by you, saving you the headache of constantly finding and qualifying staff.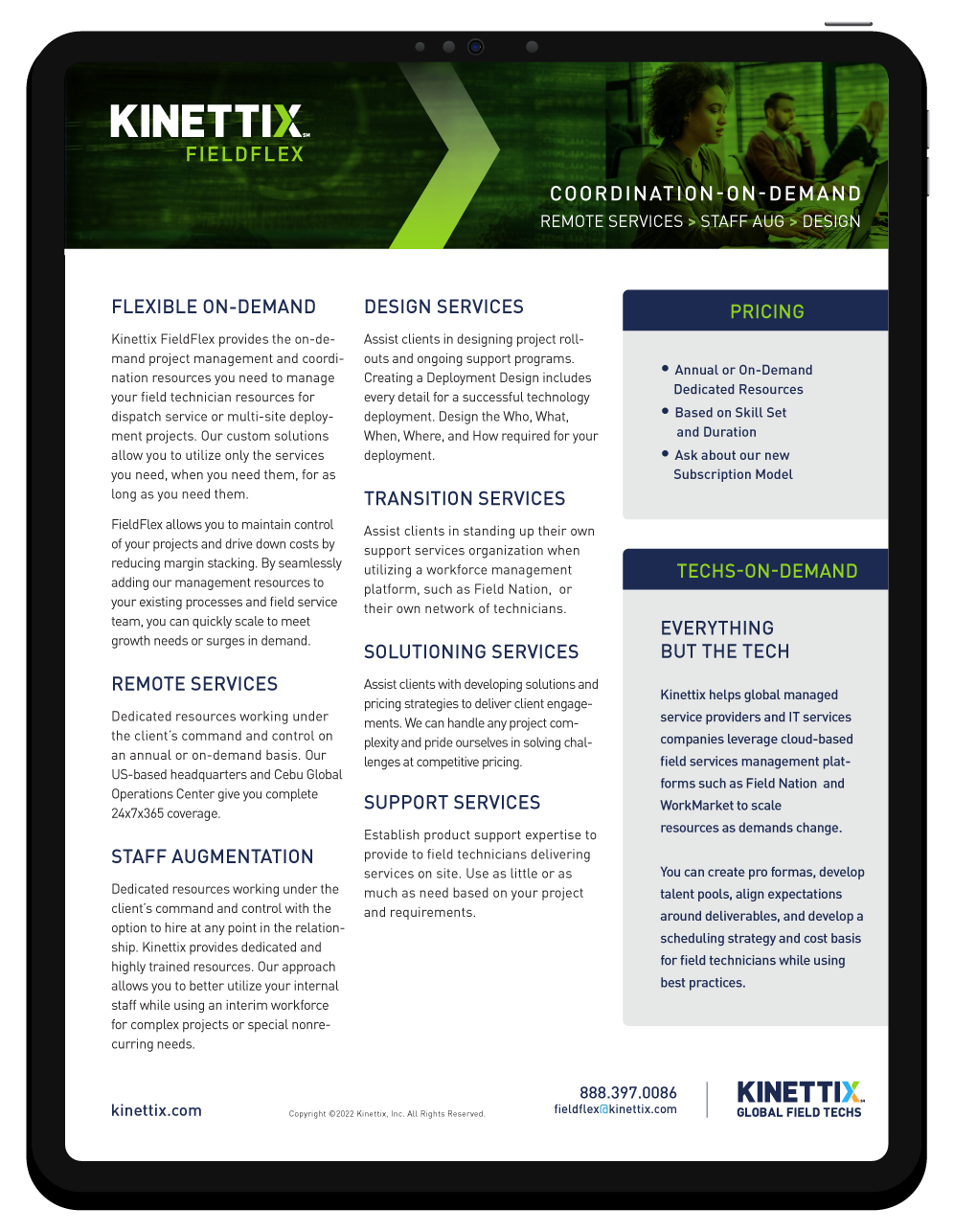 KINETTIX FIELDFLEX™ OVERVIEW
Installing, maintaining, and retiring assets across any number of sites all over the world presents many challenges. Delivering high-quality services require dedication and oversight in order for project managers and technicians to operate at their best levels.