STAFF AUGMENTATION
Flexible Coordination-On-Demand
Maximize Your IT Resources with Kinettix IT Staff Augmentation
With new technology ushering in an age of "Digital Transformation," companies on the cutting edge are leveraging the latest workforce trends to stay ahead. At the forefront of this workforce transformation is IT staff augmentation, the process of hiring temporary or contract IT professionals to supplement a company's existing staff.
While augmenting your workforce comes with numerous benefits, companies that choose this path face a few hurdles.
Finding qualified and vetted IT resources comes with its own set of challenges. Complications quickly pile up when you throw in the need to scale on-demand or into new territories. On top of that, managing a disparate workforce and ensuring compliance with local regulations can be an onerous task that most organizations cannot take on.
Kinettix's IT staff augmentation service removes these barriers to success by offering a complete package that includes sourcing, vetting, and providing highly specialized and trained personnel to manage project demands while also providing increased flexibility.
Empowering Your Business with Scalable IT Solutions
We understand the pain of managing and scaling IT resources. Our IT staff augmentation services offer a cost-effective solution to the challenges of hiring and retaining full-time IT staff. By providing a flexible workforce, we help businesses overcome the obstacles of budget constraints and skill gaps, allowing them to focus on their core competencies and drive digital transformation. 5 Benefits of Our IT Staff Augmentation Service
At Kinettix, our goal is to leverage our global talent network to help your business scale. Our IT staff augmentation service eliminates roadblocks like recruiting and onboarding, sourcing and vetting talent, and filling skill gaps in your workforce while you concentrate on scaling.
1. Increased Flexibility
At Kinettix, we understand the needs of your business can change quickly, and having a flexible workforce is essential to meet those changing demands. Our IT staff augmentation service is designed to provide that flexibility, allowing you to increase or decrease the size of your workforce as needed. This gives you the power to scale on demand, ensuring you always have the right number of skilled and qualified IT resources available to meet the needs of your projects.
Our ability to flexibly scale our workforce is particularly useful when dealing with demand surges, such as a sudden spike in customer support requests or an unexpected increase in projects. Our contingent labor force can be quickly mobilized to meet that increased demand, preventing delays and ensuring your business can continue operating smoothly.
With a flexible workforce, you can quickly and easily scale your IT operations to meet the demands of new projects, customers, or markets. This allows you to capitalize on new business opportunities and stay ahead of your competition.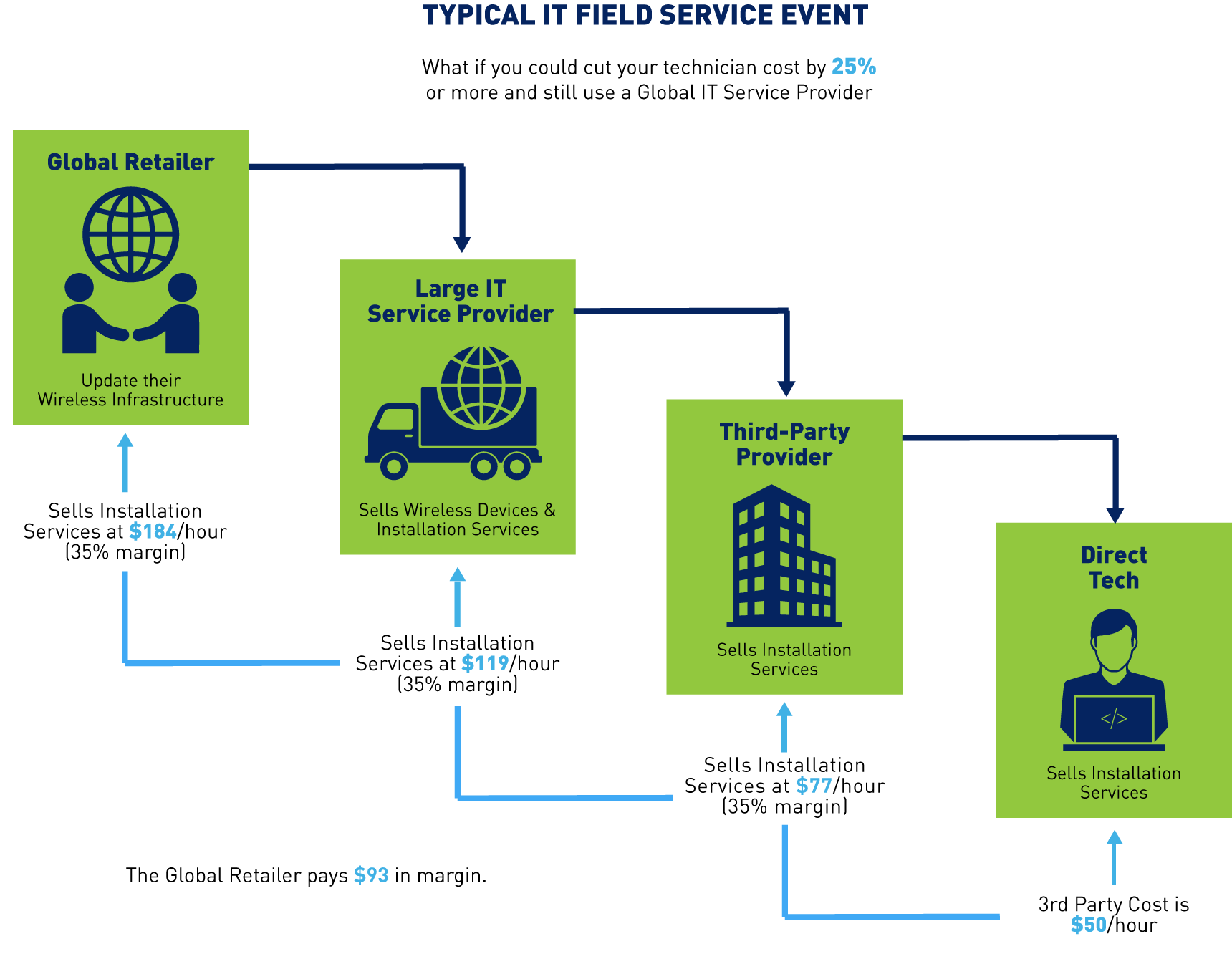 2. Decreased Costs
Our IT staff augmentation services offer a cost-effective solution for businesses looking to expand their workforce without incurring the expenses of full-time employees. By utilizing our contingent labor force, you eliminate the costs associated with salary, benefits, and taxes, allowing you to budget more effectively and adapt to fluctuating demands.
The costs associated with recruiting and onboarding new employees quickly add up, making in-house staff a costly investment. Kinettix offers a more budget-friendly solution with our IT staff augmentation services. With our global contingent staffing options, you can access a cost-effective workforce without sacrificing quality.
3. Advanced Skill Sets
At Kinettix, we understand the importance of having the right skill set in place to complete projects successfully. Taxing your internal staff with responsibilities outside their skill set affects both workload and productivity. More so, the risk of burnout increases when your core employees are asked to cover unforeseen demands or cover projects that they are not qualified for.
Our team has a strong understanding of the latest technologies and trends in the industry, which allows us to match the right talent to your organization's needs. With our staff augmentation services, you gain access to a pool of experts with a wide range of skill sets, including programming languages, development frameworks, and specialized technologies. This helps your organization stay ahead of the curve and take advantage of new and emerging technologies.
Additionally, our staff augmentation services help you avoid staff burnout by providing additional support and resources to your internal IT department. By relying on a contingent labor force to fill skill gaps, your in-house employees can focus on their core responsibilities and maintain a productive workflow.
4. Global Reach
When you need a contingent labor force outside your company's service area, our Global Network provides a reliable solution. With Kinettix, you source talent anywhere in the world, depending on the demands of your project.
Need a tech for a local project? No problem. Need a team of technicians to handle a deployment on the other side of the globe? Also not a problem. Leverage our global network of talent to scale your business into new markets.
IT Staff Augmentation You Can Count On
At Kinettix, we pride ourselves on our ability to provide exceptional IT staff augmentation services that help businesses achieve their goals. Our dedicated recruiting team and advanced recruiting process allow us to staff resources quickly and efficiently, providing rates, skill sets, and even temp-to-hire options. Our platform tracks the recruiting process, pulls from all available resources, and provides appropriate compliance assurance globally.
Our approach allows for better utilization of internal staff while providing an interim workforce for complex projects or special nonrecurring needs. Our dedicated and highly trained resources work under the client's command and control, with the option to hire at any point in the relationship. Kinettix provides the flexibility and scalability needed for companies to stay competitive in today's digital transformation era.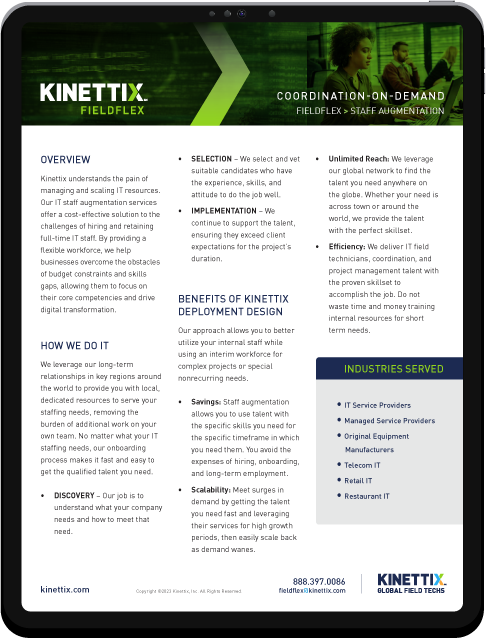 KINETTIX FIELDFLEX™ STAFF AUGMENTATION OVERVIEW
Kinettix understands the pain of managing and scaling IT resources. Our IT staff augmentation services offer a cost-effective solution to the challenges of hiring and retaining full-time IT staff.