REMOTE SERVICES
Flexible Coordination-On-Demand
Efficiently Scale Your IT Operations with Remote Staff Augmentation Services
Successfully executing IT field service work orders can be a daunting task. Finding the right talent with the right skillset on short notice is a challenge, and many organizations struggle with delays, lack of coverage, and overwhelming their internal IT teams.
Outsourcing your IT field service work can be a solution, but it comes with challenges. Ensuring that your service provider can meet the demands of your organization and not hinder your success is crucial, but achieving success can be expensive and, at times, prohibitive.
Kinettix solves this problem by providing on-demand coordination, which we call Remote Services. With the flexibility to scale, coverage when and where you need it, and reduced workload and stress for your in-house team, our services are designed to support your growth.
We Scale Your Team — Not Replace It
Thanks to the innovative Kinettix FieldFlexSM service offering, our remote staff augmentation services scale on-demand to match your organization's requirements. Since we work with your client-specific tools and processes, we complement your existing team and provide the scale you need to successfully complete your rollout projects. 3 Ways Remote Staff Augmentation Services Benefit Your Business
Our remote staff augmentation services are perfect for organizations that want to reduce the layers between you and the technician/ provider on-site. We provide an "everything but the tech" approach that allows you to expand on demand and coordinate capabilities with ease.
1. Flexibility to Scale
Scaling IT operations can often come with unexpected expenses and obstacles. But one thing is certain: if your managed services provider is not equipped to support your growth, you are more likely to miss out on potential opportunities.
At Kinettix, our remote staff augmentation services are tailored to integrate seamlessly into your organization and provide the necessary resources and IT infrastructure for your growth. Remote services staff are trained to work with your specific tools and proprietary processes, ensuring a smooth transition.
Flexibility does not equate to uncertainty in costs. Our on-demand resource pools scale to meet your specific needs, with flexible commitment options on a weekly, monthly, quarterly, or annual basis. This allows you to control your expenses and adapt to changes in your business needs.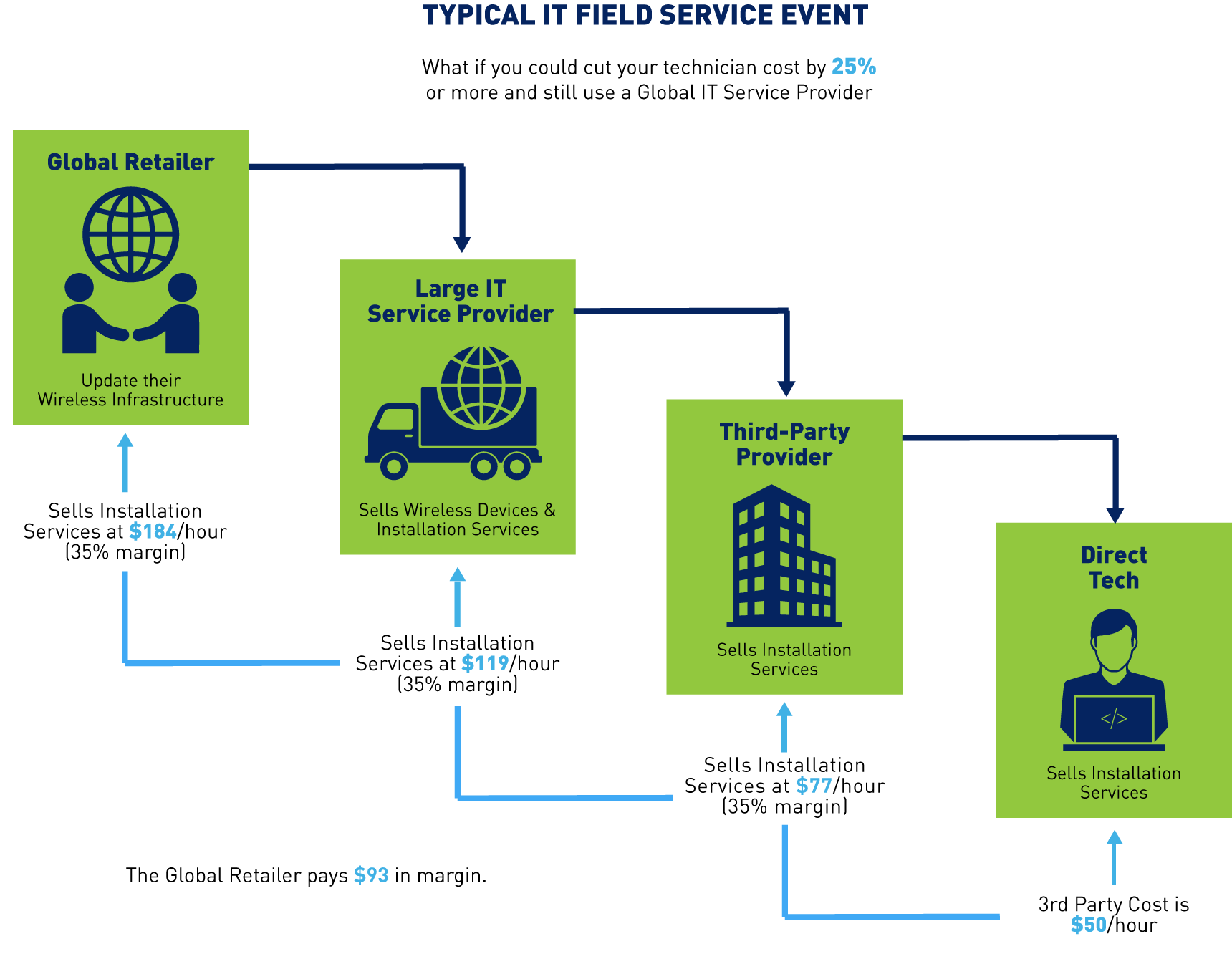 FieldFlexSM gives you all the benefits of using a Global IT service provider with the cost savings, flexibility, and transparency of going direct to the technician. Unlike the traditional field services outcome-based services, FieldFlexSM gives you resource-based on-demand coordination services that scale up and down with your changing business requirements.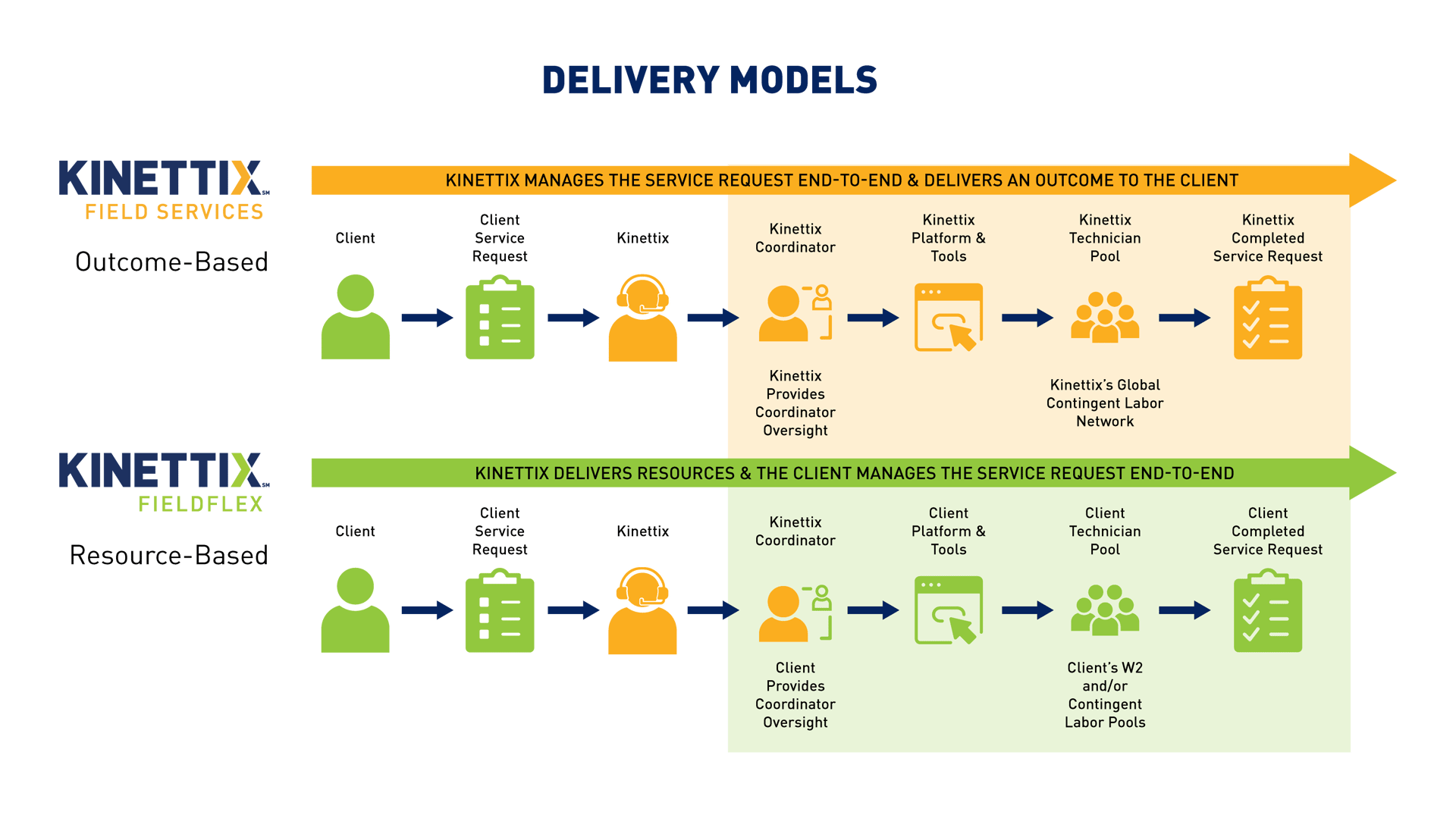 2. No Coverage Limitations
True 24x7 coverage is something many organizations fail to achieve. Lack of coverage can seriously inhibit growth and opportunities to deliver for your clients. Ultimately, it can be hard to pinpoint where your coverage is spotty since limitations come in many forms.
Limited availability on weekends and holidays:

Some remote service providers do not offer support on weekends and holidays — leaving you in the dark with no way to access support in an emergency at an inopportune time.

Limited availability in different time zones:

If your client is in a different time zone than your organization, and your remote services provider is unavailable during critical hours, you could be without support when you need it most.
Our remote staff augmentation services are available on a 24/7 basis, which means you have access to coordination services whenever you need them, regardless of the time of day or night. Our goal is to provide you with coordination resources at the specific time needed to support all your project efforts.
3. Less Work For Your Team
Managing project rollouts within an organization can strain team members' workloads and productivity. Having your core employees cover unforeseen demands or projects they are not qualified for can put them at risk of burnout.
By entrusting Kinettix with your remote staff augmentation service needs, your team will have the opportunity to focus on their core responsibilities. As a result, they are more productive and prioritize the most important tasks, reducing workload and stress.
An Above-the-Crowd Approach to Remote Services
Kinettix stands above the crowd when it comes to providing remote staff augmentation services. The process of scaling your deployment operations is complex. Recruiting the right talent at a moment's notice is not easy, and many organizations suffer through delays, lack of coverage, and staff burnout.
Kinettix offers a practice area that develops a centralized service center-like environment globally, providing organizations with true 24x7 coverage and field service-focused skill sets. Our remote staff augmentation services provide the necessary resources to seamlessly integrate into your organization.
With on-demand pools of resources, we offer scalability and dedicated teams that work with your proprietary tools and processes. This ensures you are always in control of your deployment operations. Kinettix is not a replacement for your team, but rather an extension of it, giving you the flexibility to scale and grow your business.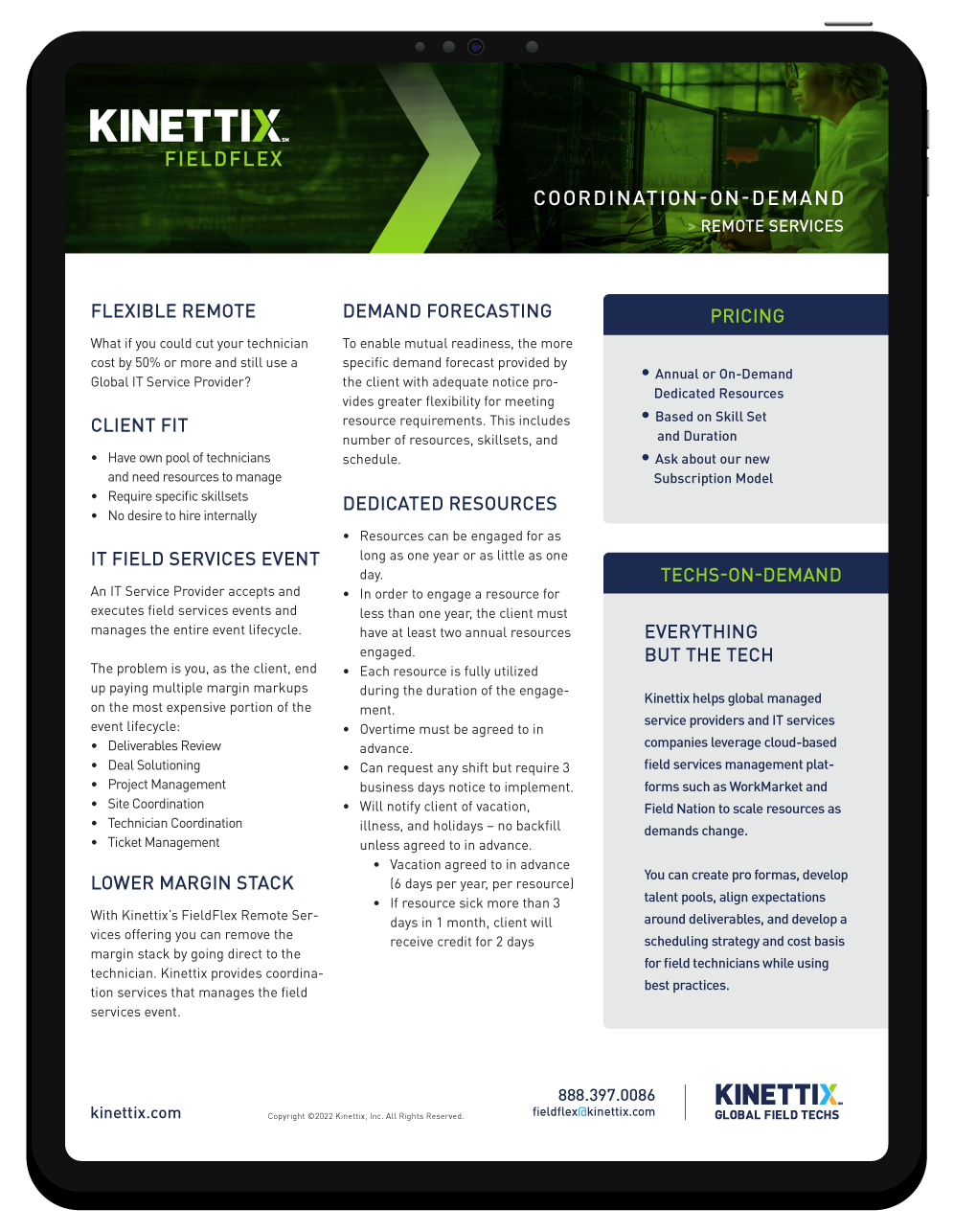 KINETTIX FIELDFLEX™ REMOTE SERVICES
It can be difficult to find the right staff with the necessary expertise quickly, which can cause issues with delays, coverage gaps, and overburdening internal IT teams. Yet, it is possible to meet your company's requirements while avoiding obstacles to success with the appropriate support.