SOLUTIONING
Flexible Coordination-On-Demand
Bringing Clarity to IT Field Services Solutioning with Kinnetix
As a leading provider of IT field services, we assist global organizations with developing solutions and pricing strategies to deliver superior client engagements.
One of the most challenging aspects of IT field services solutioning is the difficulty of creating accurate cost models for nationwide or global delivery projects. This can lead to cost overruns and delays in project delivery.
Many companies also experience uncertainty regarding the structure and headcount of their field service management teams, difficulty designing services and contracts, and difficulty creating a budget for field service labor.
At Kinettix, we understand the challenges of IT field services solutioning and have developed services to cater to your organization's unique needs.
Solution Directors to Augment Your Expertise
Our Solution Directors are experts in IT field services, working closely with your company to provide expert guidance and recommendations. We use a holistic approach that includes scope definition, cost gathering, and a flexible pricing package, ensuring that our solutions align with your goals. 4 Advantages to Field Services Solutioning with Kinettix
1. Solving Cost Uncertainty
Cost uncertainty can be a major obstacle to growth. At Kinettix, our Solution Directors possess the necessary skills and experience to gather comprehensive cost information and develop accurate cost models that consider all necessary expenses, including fixed overhead, variable costs, and specific service and material quotes.
By working with our team, you better understand the true costs associated with your projects, including those that may be overlooked or underestimated when attempting to create cost models on your own.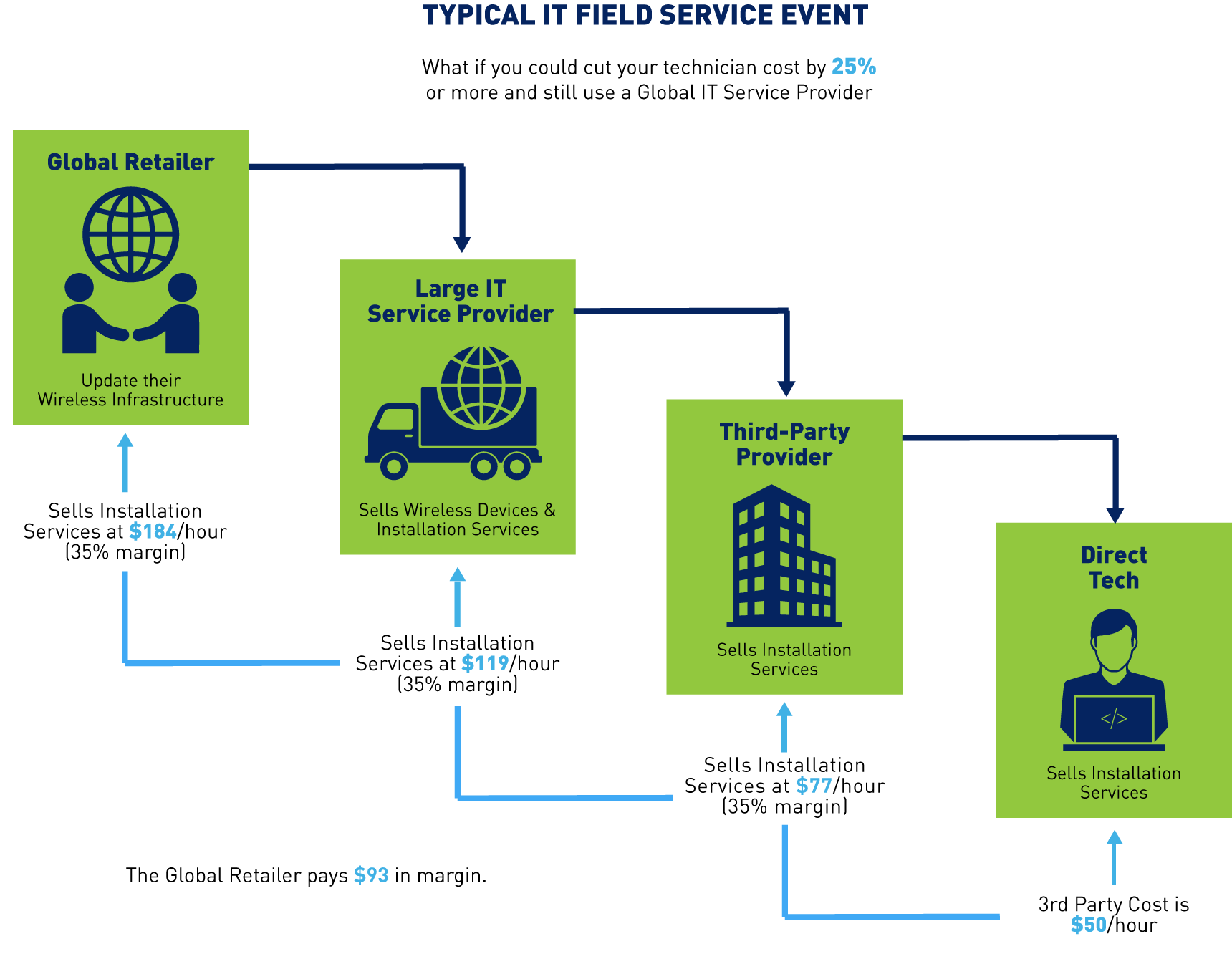 Our solutioning expertise augments your team's skills and provides you with the confidence and peace of mind that your projects are being priced accurately and competitively, reducing the risk of cost overruns and ensuring you are able to deliver projects on time and within budget.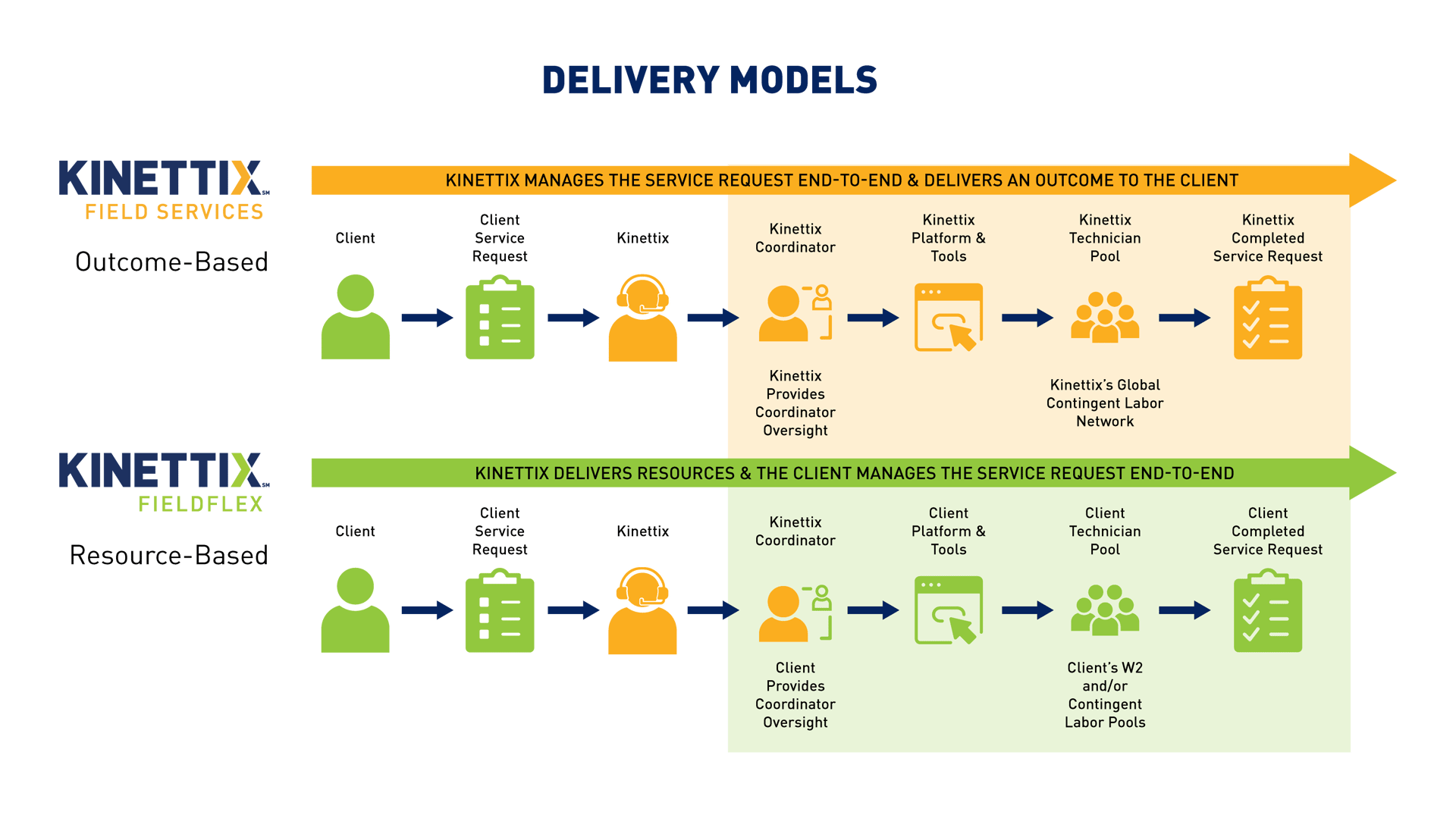 2. Maximize Your Team's Potential
Our Solution Directors have extensive experience in field service management and work with your organization to design an optimal structure and headcount for your teams.
We help you gain insights into best practices and industry standards for IT field service management, allowing you to make more informed decisions about the structure and headcount of your teams.
Our Solution Directors provide recommendations for building out Project Coordination and Project Management headcount, which help ensure you have the right mix of skills and expertise to manage IT field service operations effectively.
3. Design Efficient Services and Contracts
Another benefit of Kinettix FieldFlexSM solutioning services is addressing the difficulty in designing services and contracts. Our Solution Directors have the expertise and experience necessary to design comprehensive solutions that align with your goals and meet your specific needs.
Our approach to IT field services solutioning helps you identify potential risks and mitigation strategies when designing services and contracts. Streamlining your services and contracts is a critical point in achieving customer satisfaction and maximizing the ROI of each client engagement.
As part of our IT field services solutioning, our Solution Directors identify inefficiencies and recommend solutions to improve your processes. As a result, you enjoy cost savings and increased efficiency in your operations, providing peace of mind and allowing your clients to focus on their core business.
4. Create Effective Budgets with a Crystal-Clear Vision
By trusting Kinettix FieldFlexSM Solutioning services for your IT field services, you gain the expert support you need to effectively create budgets for field service labor that align with your goals, reduce risk, and lead to successful projects.
Our team ensures all costs are taken into account and the budget is comprehensive and accurate, which minimizes the risk of budget overruns and ensures the project is delivered on time and within budget.
The Ideal Solution to IT Field Service Solutioning
At Kinettix, we take a personalized approach to solutioning. Our Solution Directors work closely with your organization to understand your specific needs and goals. We take the time to clearly define the project's scope and align our services to meet those needs, ensuring all parties are satisfied with the outcome.
We understand delivering a service goes beyond just field labor costs. Our Solution Directors meticulously gather cost information and analyze it to ensure the project stays within budget.
To ensure our solutions align with your unique goals and reduce risk gaps, we create a comprehensive pricing package. This includes determining a pricing structure that works best for your organization and creating a service agreement that includes terms and conditions that meet the needs of everyone involved.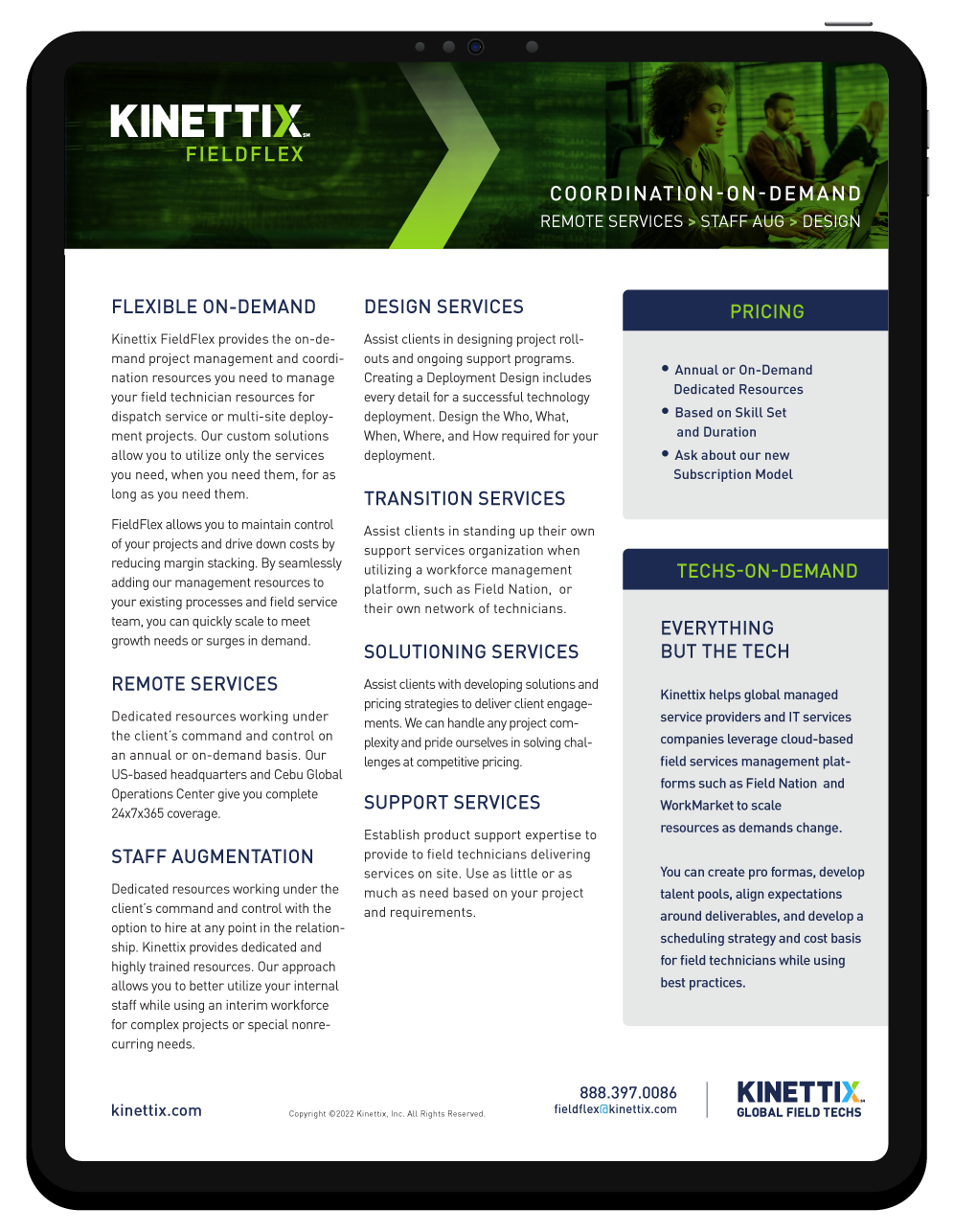 KINETTIX FIELDFLEX™ OVERVIEW
Installing, maintaining, and retiring assets across any number of sites all over the world presents many challenges. Delivering high-quality services require dedication and oversight in order for project managers and technicians to operate at their best levels.