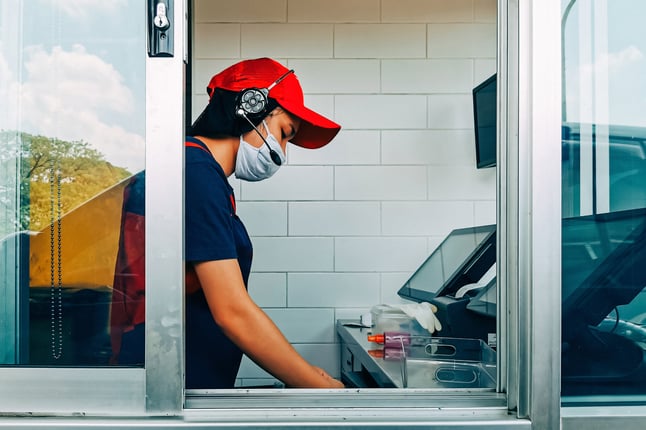 As we enter 2021 and adjust to the "new normal," quick service restaurants (QSRs) are finding that technology is more important than ever. Restaurant tech is helping QSRs adhere to tightened health and safety regulation as well as improve the customer experience in the wake of COVID-19.
That doesn't mean there wasn't a learning curve, though. The pandemic caused many businesses to scramble at first — not just quick service restaurants. No matter how your company responded, though, it's clear that we could all be a little more prepared for crises like this.
Let's take a look at some of the specific technologies that can help QSRs and the managed service providers who support them be more resilient. We'll also discuss how business continuity plans (BCP) can help the quick service industry survive and thrive during uncertain times.
Technology for QSR Resiliency
1. Health-Focused Tech
Health is obviously at the top of everyone's mind these days. Though vaccines are on the horizon, day-to-day life won't go back to normal overnight. We'll all likely have to practice social distancing and wear masks for some time. Thus, quick service restaurants can become more resilient by investing in technologies that safeguard the health of both customers and staff.
Imagine a typical QSR and think about the customer journey. When a patron enters the building, which items do they have to touch? Who do they come into contact with? How can you change this process to make the dining experience both safe and positive?
For example, you might consider installing hardware-less kiosks, which present a QR code and allow customers to order and pay for their food via their smartphone — all without touching the device. You can also implement other forms of touchless payments or install sneeze guards at your in-store registers and drive-thru windows.
Now, think about the staff. Are there additional ways to improve operations and protect team members?
Today, businesses are conducting pre-shift health checks to make sure no one is coming into work sick. Doing these checks manually, however, isn't efficient. Either you need to bring an employee in before their usual shift, schedule more employees per shift, or bring in a manager to wait by the door and take staff member's temperatures.
Instead, consider a temperature-scanning kiosk. These tools streamline shift changes while freeing up managers and employees to focus on other areas of the business. Plus, like hardware-less kiosks, these devices minimize person-to-person contact and don't require team members to touch a screen.
2. QSR Automation
When it comes to QSR resiliency, there are other areas of operations that need to be assessed beyond staffing and pre-shift health checks. Tasks such as receiving, inventory management, and compliance tracking can all create inefficiencies when not handled correctly. In turn, these sticking points could make quick service restaurants less agile overall.
QSRs can bolster their businesses by investing in digital tools that streamline these middle- and back-of-house tasks. From cloud-based kitchen management software to food temperature sensors, QSR automation not only increases efficiency and cuts costs, but it also provides valuable insight into areas of improvement.
For example, QSR operators can leverage drive-thru timers to measure how quickly the restaurant is taking, processing, and fulfilling orders. This data can illuminate potential bottlenecks and help operators identify areas where they can further streamline the process. Other back-of-house tech like IOT-enabled appliances also allow operators to remotely monitor their kitchens for optimal efficiency and consistent quality.
Forward-thinking operators and managed service providers may also want to think about artificial intelligence (AI) and robotics for QSR automation. According to Polaris Market Research, the service robotics industry will reach $54.4 billion by 2026. That's more than three times its $13.1 billion value in 2017.
While the technology is constantly evolving, there are plenty of robotic solutions that can help QSRs stay resilient. Zume Pizza in San Francisco, for example, uses robotics and AI to prepare their pizzas, including pressing the dough, spreading the sauce, and placing pizzas in the oven. This strategy speeds up the production line — without needing to add more employees to the payroll. Robotics can go beyond food preparation too, automating tasks like table sanitation as well.
3. Digital Checklists
Digital checklists go hand-in-hand with QSR automation. Many quick service restaurants are still relying on paper checklists to track the progress of daily tasks. By digitizing and automating these forms, quick service restaurants can become more responsive — both on a short- and long-term basis.
Managers, for example, can check on their employees' progress from a distance to ensure that tasks are being completed on time. They can also more easily track results and identify areas of achievement or potential improvements. Likewise, staff have a clear understanding of what needs done and how to best manage their time.
The Importance of a Business Continuity Plan
While leveraging QSR tech is essential, it's not the only way that quick service restaurants can become more resilient. Business continuity plans or BCPs are guiding documents that list a company's procedure in the event of a natural disaster, cyber attack, pandemic, or similar threat.
It's unlikely that anyone had "coronavirus pandemic" in their BCP prior to 2020, but thinking through potential scenarios is always good preparation for all businesses — not just the quick service industry.
To create one of these plans, begin by analyzing the most important and essential portions of the business. These are what will need the most protection and planning around the BCP. Then, create the plan to keep business running as smoothly as possible, beginning with these essential areas. From there, it's time to test and try to find problems in the plan. This is the best way to be prepared, so invite employees to take a look and provide feedback, as well. Once the plan is set, train employees so they're aware of the plan, should a crisis arise.
Unknown events happen all the time. But by leveraging technology and strategic planning, quick service restaurants can weather any storm.
If you or your client are looking for global field techs to install or repair QSR technologies, give Kinettix a call. Our team of highly skilled field technicians and project coordinators have years of experience helping quick service restaurants achieve their goals and can help you be resilient in 2021 and beyond.