There was a time when the most advanced piece of technology you'd find in a retail store was a cash register with a credit card terminal. Those days are long gone. Over the past decade, the retail experience has changed dramatically, and much of that change has been fueled by technology.
Retailers are competing with each other in a technological arms race. Walmart led the way in 2015 with more than $10 billion in spending on new retail IT initiatives. Amazon is testing warehouse robots and delivery drones. Even smaller retailers are reshaping their stores with interactive kiosks, self-pay terminals, and even beacons to notify shoppers of nearby sales.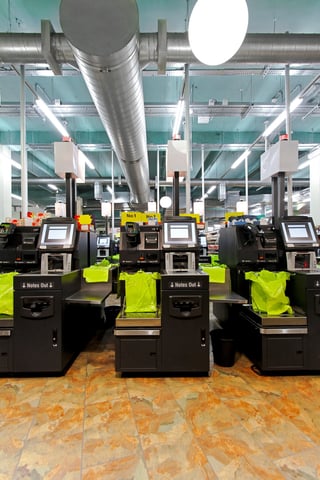 While this retail IT revolution may create opportunity and an enhanced shopping experience, it has also fueled a greater need for tech support.
As a company providing IT support services to retailers, you likely see this need on a daily basis.
When a retailer has an IT issue, it's often a critical and urgent matter. The failure of a pay terminal could disrupt service in a store. A server problem might slow the company's ability to take online orders or accept payments. Issues with automated equipment in a warehouse could threaten the supply chain.
Retailers face these issues and more every day. If you can provide fast support and effective solutions, you'll be better positioned to strengthen your relationships with retailers and win new business.
Of course, your ability to provide high-level support is dependent on your ability to scout, hire, and deploy top tech talent. The two are highly correlated. If you don't have a fast, efficient system for hiring and deploying skilled techs, you'll have difficulty meeting the needs of today's retailers.
The good news is there are solutions available that can help you quickly identify and hire the best local IT talent in any market. One of the most effective tools may be field service management (FSM) software.
FSM software is a comprehensive platform that allows you to scout, hire, and deploy field IT talent from one central location. Instead of making phone calls to multiple techs and contractors and emailing job information, you manage the entire process from a central dashboard. This approach saves time and resources and often leads to faster and more effective support.
Below are a few ways in which FSM software could improve your IT support services for retailers:
Search Top Local Talent in Minutes
Perhaps the most challenging part of IT field service deployment is identifying and hiring the right technician. This can be especially difficult in retail because locations can be spread across the country or even around the world.
Assume you have a contract to provide support for a national retailer. They're having issues with a payment system in stores in one metropolitan area. You have limited experience deploying technicians in that part of the country. How do you respond quickly and ensure that you're deploying a qualified tech?
FSM minimizes the risks in this scenario because it lets you draw from a pool of established technicians. You search techs in the area and sort them by your most important criteria. You can even view their background, experience, and skill sets, so you know who you're hiring.
The software allows you to initiate contact with the tech through and communicate with them in real time to coordinate a fast response. No need to place urgent phone calls or send emails to multiple contractors and pray for a response. You choose from your pool and deploy the techs with confidence that they'll get the job done.
To make the most out of FSM software, consider working with a retail IT partner that can not only set up and manage this software for you but also offer 24/7/365 global dispatch support if problems arise.
Use Real-Time Communication to Deliver Rapid Response
Communication is often the key to superior IT support and service. FSM software is so effective because it facilitates communication in real-time. You can send messages, documents, images, and any other relevant information directly through the software.
Your techs can access their end of the platform via a laptop, phone, tablet, or any other device. They have the ability to communicate directly with you and your team and ask questions as they arise. You can answer immediately, so they have the information they need to provide fast service. FSM lets you eliminate downtime in your communication with your IT field team.
Deploy an efficient, streamlined system to manage field techs.
Hiring and communication may be the two most important elements in your field service network, but there's also a substantial administrative component. After all, you have to pay your techs and contractors for their work, and you have to ensure that the service they provided met your standards and the retailer's expectations.
FSM helps you streamline this administrative component so you can spend less time filing paperwork and more time supporting your retailers. For example, techs can submit their tax and payroll documentation directly into the software. You can then initiate payments through the platform and transmit that money electronically.
Techs can also log their hours, the outcome of the job, and any other important data. You can store that information in one centralized hub, which gives you the ability to do a full debrief on your support services. That information could help you enhance your services, assess a tech's job performance, and even identify areas for improvement.
The retail world is evolving rapidly, and tech is the driving force behind that change. If you're going to compete for retail IT support services, you have to be able to respond quickly and effectively. FSM software may be the powerful tool you need to take control of your field services and enhance your retail IT support business.