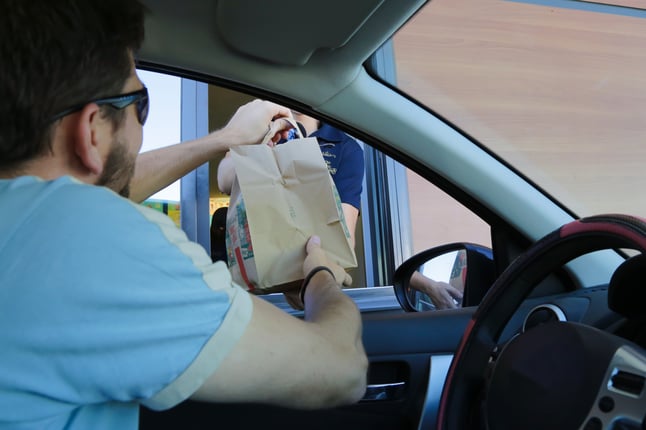 From byproducts of the COVID-19 pandemic to ever-evolving technological innovations, changes are coming to restaurant IT and the quick service industry in 2021. Many quick service restaurants (QSR) will try to adapt to these trends as they come. However, if you want to compete in an oversaturated market, you need to know what's on the horizon to keep you ahead of the curve.
QSRs can gain insight by assessing the retail landscape as a whole. Today's retailers have experienced significant shifts due to not only the pandemic but also changing consumer expectations. Let's take a look at the lessons that QSRs can learn from this sector.
What Can Quick Service Restaurants Learn From Retail?
1. Technology can support social distancing guidelines.
The world learned to operate while six feet apart through the majority of 2020. Many QSRs have already adapted to these new social distancing guidelines by adding sneeze guards to their drive-thrus and increasing off-premises dining.
Social distancing, though, isn't going away anytime soon. When dining rooms reopen, quick service restaurants will need to be prepared.
Retailers, particularly grocery stores, are already ahead of the curve. They've been leveraging sensors that can tell when people are gathered too closely and remind them to spread apart and keep the needed six feet of distance.
While QSRs have smaller locations than most retailers, these sensors could still be a valuable addition to their tech stack. Namely, they take the burden off of staff and help diners use the space around the restaurant more efficiently while waiting for their food.
2. The need for contact-light shopping is growing.
The Amazon Go Grocery is the next frontier of retail grocery shopping. Although they aren't widespread yet, they are changing the industry by leveraging a number of ground breaking technologies. One example is their use of sensors and cameras that track shoppers to know what they're taking off the shelves and putting in their carts. Then, the system automatically charges the shopper's Amazon account, so they don't even have to interact with someone to check out. They simply shop and leave.
Quick service restaurants can learn from this evolution in a couple of ways. First of all, shopping via phone will be even more popular, so apps will become critical. Also, understand that customers want to enter, get their food, and exit without engaging with too many people. The more streamlined of a process the restaurant can create, the better the customer experience will be.
3. Customers want contactless payment options.
Speaking of not wanting to engage too often, let's move on to contactless payments. This technology is becoming increasingly common in the retail space, so quick service restaurants will need to be ready to implement it soon to stay ahead of the competition.
Many retailers have made scanners and keypads customer-facing so those paying with a card could handle the payment on their own, without the card needing to leave their hand. However, even that is too much contact for some people. Instead, consumers are looking for completely contactless options like Apple Pay or Samsung Pay, or even credit cards that allow you to tap instead of swipe or insert. In 2021, quick service restaurants will need to be ready to cater to this change in consumer preferences.
4. Loyalty programs help brands stand out.
Just as many retailers are similar to their competitors, many QSRs can find themselves in close competition with other restaurants. One way to inspire customer loyalty is to create a program that rewards them.
Whether that's a free coffee after every 10 purchased or earning points as the customer spends more money, loyalty programs keep customers coming back. Often the loyalty program alone can be the deciding factor between two similar quick service restaurants located near each other.
Loyalty programs aren't exactly new to the quick service industry. Many QSRs used to rely on punch cards or plastic loyalty cards to help track customers' visits and offer rewards. This method proved extremely effective, but has now become outdated for today's tech savvy customers.
Quick service restaurants can now take the same customer incentives into the digital age by taking a page from retailers like Target.. This retail giant uses their Target Circle app to help shoppers find deals on their favorite products, save coupons, and order online. Users can also use the app to find the Target location nearest to them and order items ahead of time to pick up at the store later. These features appeal to consumers' desire for convenience and create a positive digital experience. By modernizing their rewards programs, QSRs can similarly improve customer loyalty.
Quick service restaurants can learn a lot from retail stores as we go through 2021. However, technology is the common thread that runs through each of these lessons. If you or your QSR clients need experienced field technicians to deploy new restaurant IT, contact Kinettix. We have a network of over 25,000 techs in 90 countries around the world. We also leverage a fully integrated platform called Dispatch1Ⓡ that helps our technicians and project coordinators deliver end-to-end solutions to common challenges in the QSR space. We're here to help 2021 be an excellent year for quick service restaurants.