SUPPORT SERVICES
Flexible Coordination-On-Demand
Tailored IT Field Services Support, Adapted to Your Changing Project Needs
IT field services operations often have difficulties in effectively managing resources, costs and providing timely support to their technicians. These challenges can result in delays in resolving issues and completing projects, as well as dissatisfaction among customers.
Traditional IT field services support providers often lack the flexibility and scalability necessary to handle the constantly changing needs of IT field service operations. Obtaining on-demand support or centralized support can also be difficult and costly.
That is where we come in. At Kinettix, we understand the challenges that organizations in field services operations face when it comes to managing resources, costs and providing timely support to their technicians. That is why we have developed our Kinettix FieldFlexSM support services - a unique solution tailored to meet your organization's specific needs and overcome these challenges.
Leveraging Our Kinettix FieldFlexSM Program to Provide Unparalleled Support Services
We understand that every project is unique, and we are committed to working closely with you and your team to identify the best solutions for your unique requirements. 3 Benefits of Trusting Kinettix for your IT Field Services Support
1. Scalability
In today's fast-paced and ever-changing business environment, projects and requirements can change rapidly. If your company cannot adjust the size of its IT field services support teams accordingly, it may end up with an over-allocated or under-allocated support team, leading to increased costs and project delays.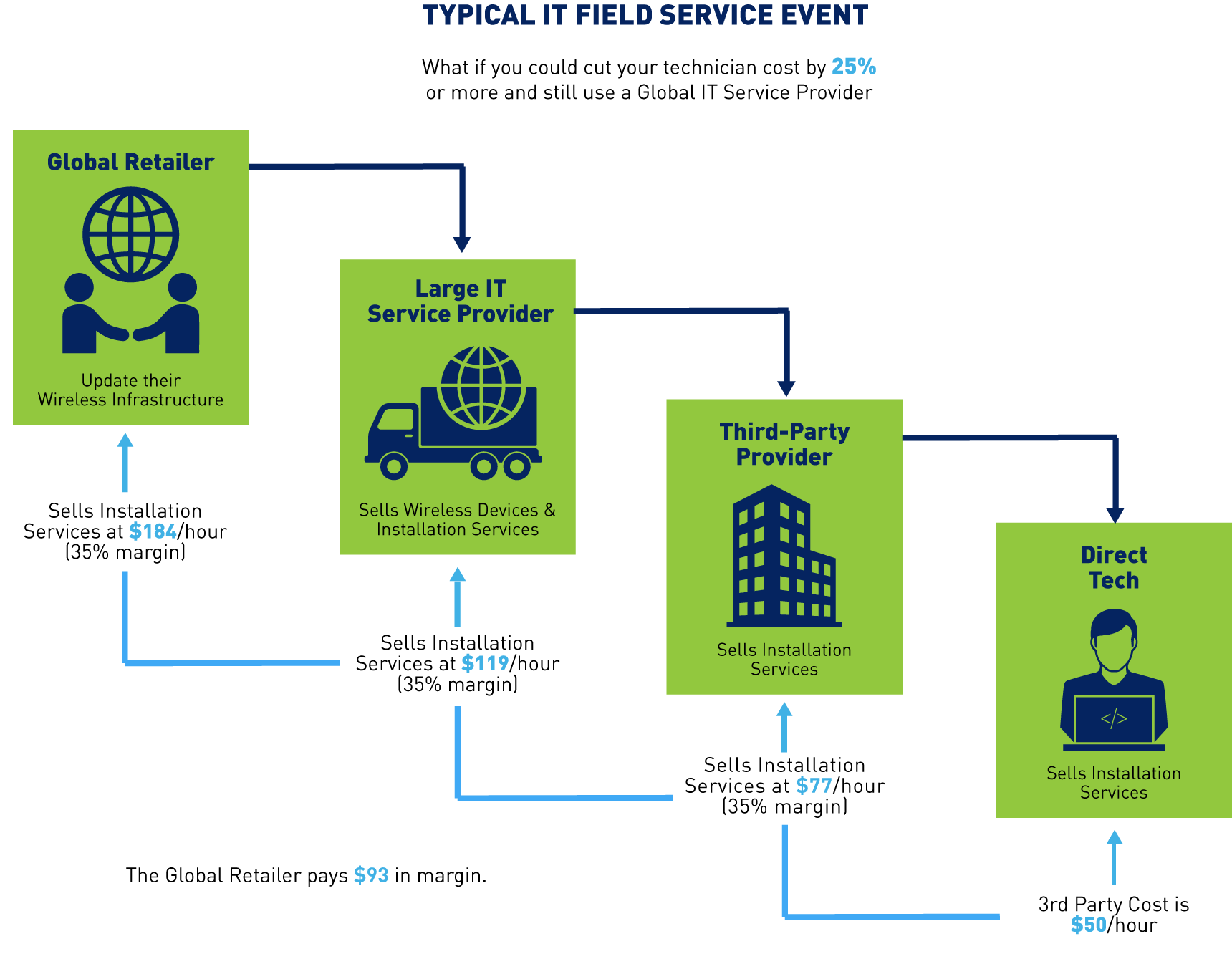 By providing scalability in our IT field services support, we help our clients better manage their resources and costs, ensuring they have the necessary support to complete their projects successfully and adapt to any changes in requirements or scope.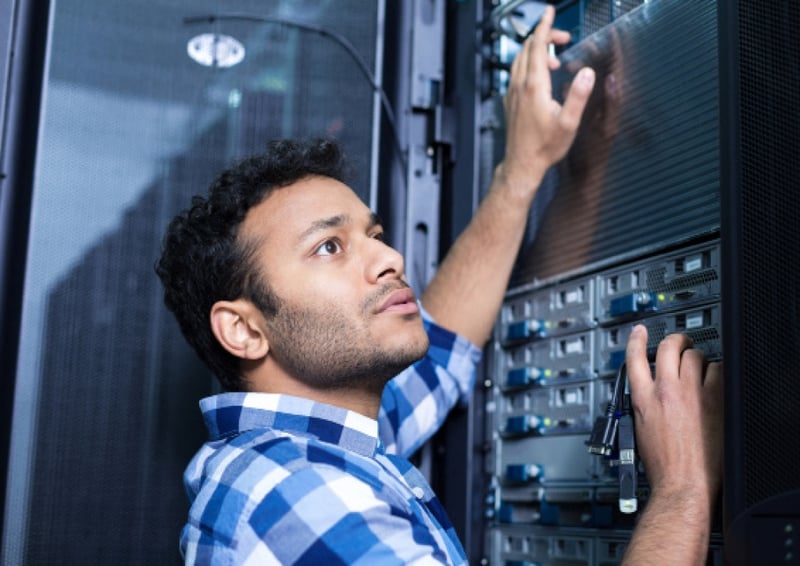 2. On-Demand Support
Our service center is equipped with equipment and expertise to provide on-demand support to field technicians delivering services on-site.
In field services operations, technical issues can arise unexpectedly and require immediate attention. If your company does not have the ability to provide on-demand support, it can lead to delays in resolving issues and completing projects.
This can cause frustration for the field technicians, resulting in lost revenue and decreased customer satisfaction for the company. By providing on-demand support, Kinettix FieldFlexSM service helps you resolve issues and complete projects more efficiently and effectively.
3. Centralized Support
Centralized support is another key benefit of Kinettix FieldFlexSM support services. With our world-class service center, we offer centralized IT field services support teams working side by side, making it easier to coordinate and manage technical support resources.
With centralized support, your organization can have a dedicated team of experts on your side, providing guidance and assistance to field technicians as and when they need it.
Having a centralized support team, especially in the post-COVID world, where remote working is common, can be very impactful for many companies, as it allows for a more cohesive and practical approach to technical support. Better coordination and communication between the field technicians and the support team results in more effective and efficient resolution of technical issues.
Kinettix: The Key to Centralized and On-Demand IT Field Services Support
At Kinettix, we provide the practical IT field services support that is crucial for field services operations success. Our approach offers unique benefits to bolster your organization's efficiency and continued growth.
Our approach offers scalability, on-demand support, and centralized support, allowing for better management of resources while keeping costs in check. Our IT field services support package is tailored to your organization's unique needs, putting you on the fast track to successful project completion.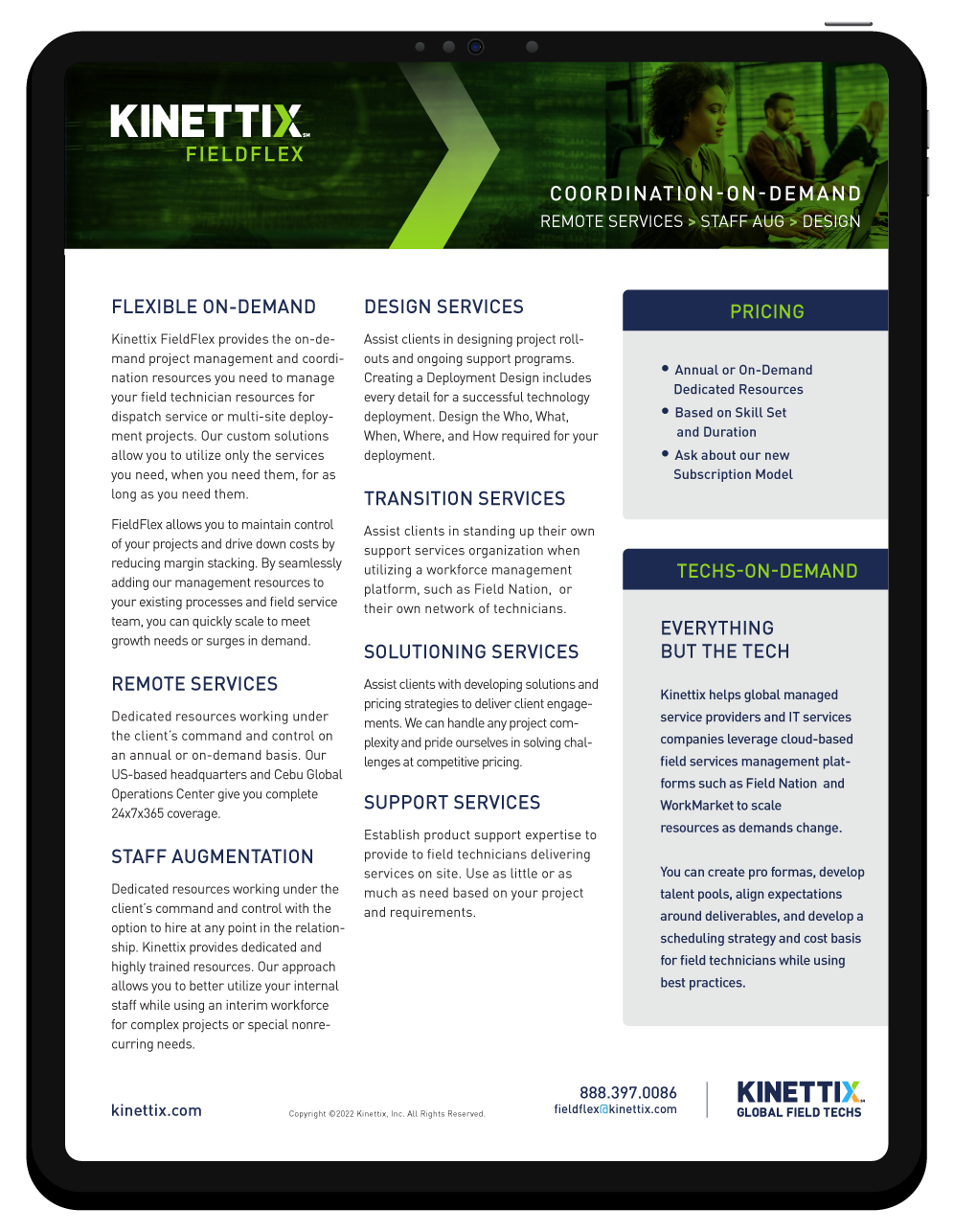 KINETTIX FIELDFLEX™ OVERVIEW
Installing, maintaining, and retiring assets across any number of sites all over the world presents many challenges. Delivering high-quality services require dedication and oversight in order for project managers and technicians to operate at their best levels.