IT FIELD SERVICES MANAGEMENT
Let Us Manage Your W-2 or Third-Party Technicians
I Have a Tech
Using internal or third-party technicians is a common way of eliminating the margin-stacking that comes with outsourcing your IT field services. However, it takes a massive amount of coordination to ensure field service events are delivered on time, the first time, with a quality outcome
Kinettix's FieldFlex services solves this problem by providing flexible field management coordination that allow you to go direct to the technician without the headache of managing every aspect of the event. Whether you need project administration services for a day, or a project manager to oversee an entire year-long project, we have customizable field service management solutions to meet your needs.
From strategic planning to quality control, we handle every aspect of your IT field services projects based on your specific needs to ensure the highest quality results. Our tried-and-true processes include: Eliminate Margin Stacking
Large IT Service providers can complete your IT field service project but add multiple layers between you and the technician who does the work. This margin stacking multiplies what you pay for the most expensive part of the field service event: the technician.
The added benefit of being in direct contact with the technicians is you always know everything you need to know about the technician working onsite and are able to communicate directly with them. This can reduce slow response times and communication breakdowns often occurring when multiple providers are layered into the event.
You can engage as many Kinettix resources as needed and when needed. We assist you in building your base team of coordinators that understand your account in detail and provide ongoing full-time support.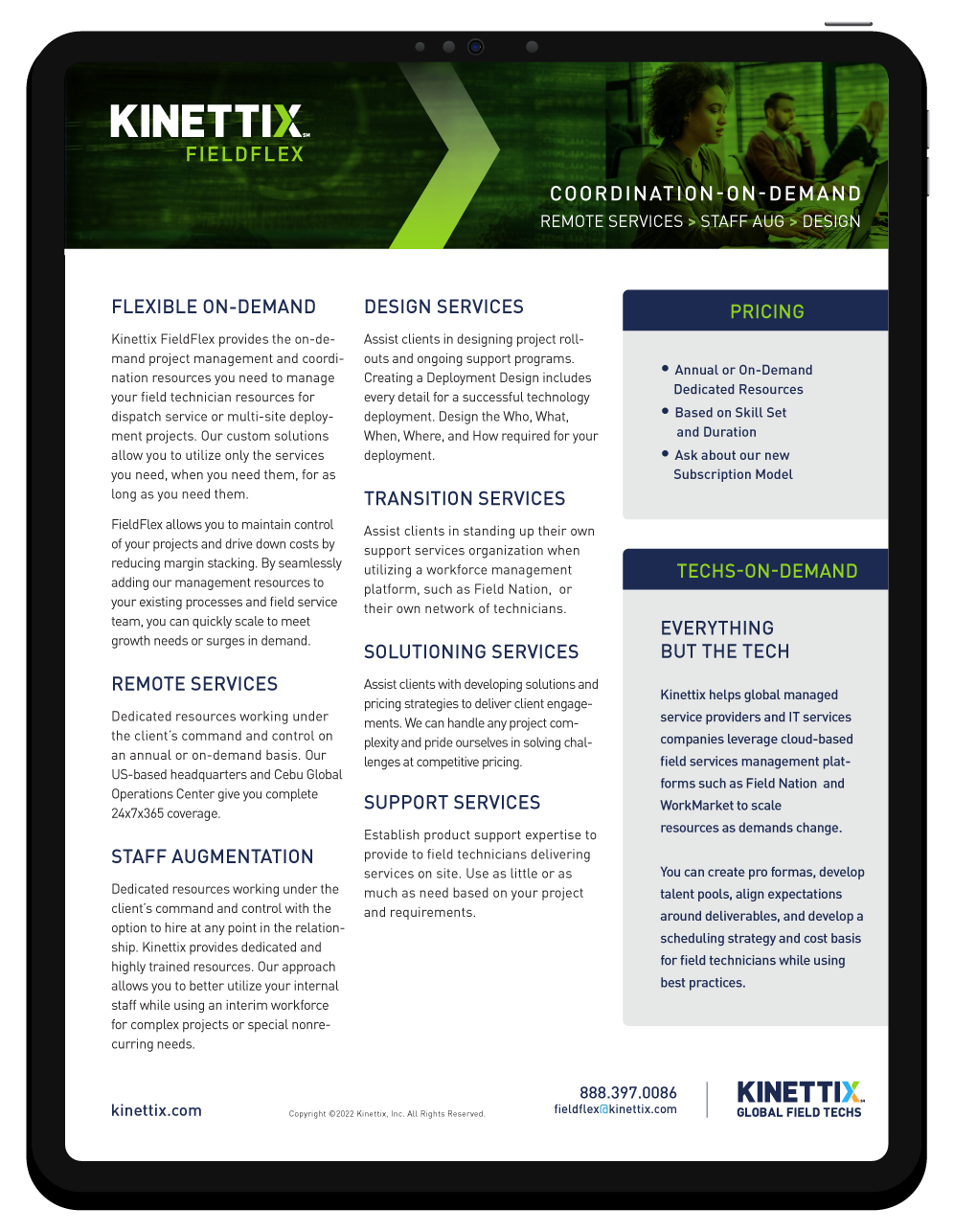 KINETTIX FIELDFLEX™ OVERVIEW
Installing, maintaining, and retiring assets across any number of sites all over the world presents many challenges. Delivering high-quality services require dedication and oversight in order for project managers and technicians to operate at their best levels.